At Projects4Roofing, we believe in turning our clients' visions into reality, and Mr. Osborn's recent experience with is an example of our dedication to excellence. His heartfelt testimonial about the replacement of his old conservatory roof with a Guardian Warm Roof resonates with our commitment to superior craftsmanship, attentive guidance, and a job well done.

From the outset, our goal was clear: to provide Mr. Osborn with a seamless and enjoyable experience throughout his project. It's our belief that every project is unique, and we take the time to understand our clients' desires to deliver results that truly matter to them. Would you like to know what Mr. Osborn felt after the project was finished? Read on!
"Friendly and efficient service throughout. We are very pleased with the overall service and the end results. The new conservatory with tiled roof looks much nicer and more in keeping with the style of our bungalow then the old lean to. The garage/workshop also looks very smart."
Take a look at some before and after shots!
Initial conservatory - polycarbonate roof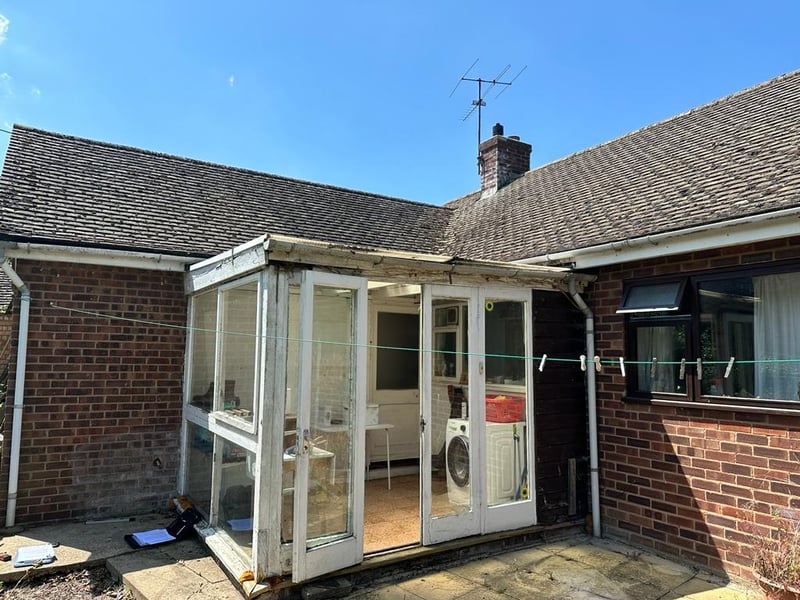 Our team of skilled fitters, driven by passion and expertise, brought Mr. Osborn's project to life. His feedback underscores the dedication that our team pours into every task. As Mr. Osborn's testimonial indicates, our fitters are not just professionals; they are craftsmen who take immense pride in their work.

We extend our gratitude to Mr. Osborn for his kind words. His testimonial is a testament to the values that Projects4Roofing holds dear: personalized attention, open communication, and commitment to quality. We don't just work on roofs; we build relationships grounded in trust and satisfaction. This types of testimonials inspire us to continue our pursuit of excellence.

In closing, we're honored to have been part of Mr. Osborn's home transformation journey. His testimonial reaffirms our belief that every project, big or small, deserves our utmost attention and dedication. If you're looking for a partner to elevate your home's comfort and aesthetics, contact us!

Projects4Roofing will transform your vision in our mission.